Back for the First Time
First things first,
we got a new pope
. But yet again we suffer another let down. The College of Cardinals has failed to elect the pope we really wanted, my man Frankie Arinze.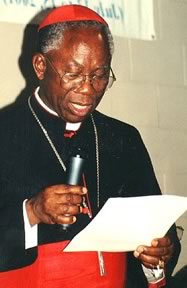 Better luck next time.....or not. When, Arinze!!! WHEN...............................
So apparently
Snoop, Daz and Kurupt have filled the rift between them
. Tha Dogg Pound is back. I only hope if they bring out an album it won't be a repeat of the The Hard Way. No Dogg Pound love songs!! I feel the love in the west coast [no homo].
So the cops in Baltimore are apparently happy with this whole "
Stop Snitching" video
shit. They said it gave them faces they didn't have before. This is a clear representation of the aptitude of Baltimore Police, when their hot lead is a dvd made and distributed by the drug dealers themselves.
B-more po-po also released a reply to the DVD
which is aptly titled "Keep Talking". Looks like Detective Moses wants beef. I forsee a handicam dvd war which will run until all parties invloved realize that making videos is stupid and bullets are the true solution.
Its Murder!!!!!!!!!!!!!!!!!!!!! which the Gottis are now looking to be charged with. Yes, feds say they are looking to
charge the brothers with the murder of Anthony Sylvester
, a drug dealer whom cops believe was killed by the Gotti brothers because they were getting money for another drug dealer. The instrument of Sylvester's demise was a two by four with nails in it. Damn that is grimey.
If you ever get shot, never repeat the number of times on a commercial aired in Britain. They will pull it.
They did it to fifty
. They will do it to you.......
Look for the
next addition to the Bad Boy empire, Bad Boy Mobile
. P. Diddy is looking to become the first mobile phone service provider to take the task of catering to the needs of the urban market. So basically, you will still have a deliquent phone bill but at least you don't owe shit to whitey. Then again, is giving your money to the man in the above photo really such a better alternative. I submit that it is not.
Anybody remember that movie "
Mad Max 2: The Road Warrior
"? Neither do I, except for the fact it had Mel Gibson in it. Well anywho, a bunch of people who were recreating a scene from the movie in anticipation for a film marathon were arrested on charges of blocking a highway and carrying illegal knives. They had fake machine guns. When I get hit with a charge for recreating a scene from "Boyz in the Hood" then I will feel their pain. The festival was cancelled after the arrests. Free the Real Road Warriors!!!!!!!!!!!
Dipset marketing is going sour it seems........ (Props to Lethal for the Pic)
To wrap shit up yes we are a dot com and we are moving at full steam with t-shirts coming soon. And to reiterate what Lethal said, you should get your ass out to a theater and go see
State Property 2
. That film is a classic, and we will use inside jokes from it just to piss-off the people who didn't see it. Seriously though, go see it. See
Death of a Dynasty
too. Its the Roc....or Dame Dash...or whatever Go see the movie!
Track of the day:
Young Gunz ft. 112- Don't Keep Me Waiting